Sandy Brehan from Sequim, WA constructed a coat for her Miniature Mannequin and entered it in the Kitsap county Fair.
McCalls 8549 from 1951
Mannequins have long been associated with fashion and so the McCall pattern company used that concept to their advantage when in 1939 they commissioned Margit Nilsen of Margit Nilsen Studios, New York to create the first miniature countertop display mannequins. These wonderful miniature mannequins were used to display versions of the actual adult patterns of that time.
This was intended to show women how the adult version would look when completed. These miniature mannequins measured approximately 30" with removable arms to assist in dressing them. Margit Nilsen also made miniature children's mannequins to show what children's patterns would look like when made up full size. These mannequins are approx. 20" tall.
Miniature mannequins were called countertop displays because they would stand on wooden bases on the counter and sometimes the base had a place for a card that told what the pattern number was, how much yardage was needed and what it would cost to make that particular outfit.
The earlier mannequins were made of a composition material and they had molded, painted hair and painted shoes. The later ones were made of vinyl, and had shaped painted eyes and synthetic wigs.
Other companies such as Butterick, Simplicity, and Singer jumped on the band wagon as well and produced their own miniature display mannequins.
Other miniature mannequins were used by companies to display ready made clothes for men and women, such as pajamas, lingerie, suits, Princess Peggy house dresses, etc.

Sandy enrolled in a class to learn how to construct a bound buttonhole.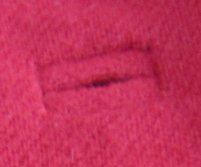 Learn how to make one yourself in an Open Lab, Tailoring class or Private Lesson.