Skip Navigation
Website Accessibility
About Us
After a long and rewarding career teaching sewing to adults and teens at a local technical college, I just didn't want the fun to end! I also felt there was a great demand to provide our community with affordable classes on a variety of topics, including custom made clothing, pattern fitting and alterations, pattern drafting, and textiles.

Students who have taken our classes not only come away with refined sewing skills, but the confidence to start their own businesses, find jobs in the fashion and design industry, or earn 4-year degrees. In fact, our students are armed with the knowledge necessary to be accepted by prestigious schools such as the University of Washington, Oregon State University, Fashion Institute of Technology, Fashion Institute of Design and Merchandising and various Art institutes.

I'm passionate about learning everything there is to know in this industry and it's my desire to bring Tacoma, Washington "The Best of the Best" in sewing and drafting instructors. As in the past, I will continue to invite experts like Kenneth D. King and instructors Lynda Maynard and Anne Whalley to our school for the benefit of our students.

If you're in the Tacoma area and would love to learn the art of garment sewing, we hope you'll contact us!

~Ryliss Bod



Measurements are key to getting a custom fit. Every student who sews a garment at the Sewing and Design School has their measurements taken and their patterns altered to fit. Whether you are a newbie to sewing or an experienced quilter or seamstress, a good fit in a garment is a must.




Instructors attend the Sewing & Design School
Stephanie Bailey, Faculty Instructor in Fashion Merchandising at Texas Christian University, attended Kenneth D. King's Moulage and Sleeve Drafting Workshop with her mother.
Kenneth D. King's Bark Coat
Made of boiled wool, this coat has no vertical side seams.
Embroidered Fortuny Jacket
KDK Bag
For Sale
$34.95 paper version Sizes 32" to 46" Bust/Chest Measurement
Click Here
$21.95 pdf version Sizes 32" - 46" Bust/Chest measurement
Click Here.
$21.95 pdf version Sizes 48-62" Bust/Chest measurement
Click Here.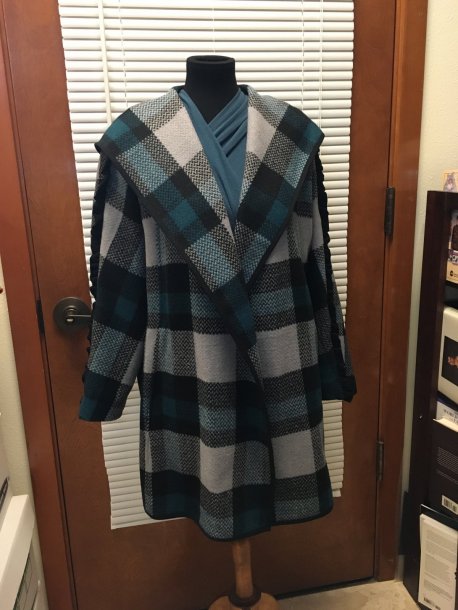 Students reach for the Stars
Sandy Brehan from Sequim, WA constructed a coat for her Miniature Mannequin and entered it in the Kitsap county Fair.
McCalls 8549 from 1951
Mannequins have long been associated with fashion and so the McCall pattern company used that concept to their advantage when in 1939 they commissioned Margit Nilsen of Margit Nilsen Studios, New York to create the first miniature countertop display mannequins. These wonderful miniature mannequins were used to display versions of the actual adult patterns of that time.
This was intended to show women how the adult version would look when completed. These miniature mannequins measured approximately 30" with removable arms to assist in dressing them. Margit Nilsen also made miniature children's mannequins to show what children's patterns would look like when made up full size. These mannequins are approx. 20" tall.
Miniature mannequins were called countertop displays because they would stand on wooden bases on the counter and sometimes the base had a place for a card that told what the pattern number was, how much yardage was needed and what it would cost to make that particular outfit.
The earlier mannequins were made of a composition material and they had molded, painted hair and painted shoes. The later ones were made of vinyl, and had shaped painted eyes and synthetic wigs.
Other companies such as Butterick, Simplicity, and Singer jumped on the band wagon as well and produced their own miniature display mannequins.
Other miniature mannequins were used by companies to display ready made clothes for men and women, such as pajamas, lingerie, suits, Princess Peggy house dresses, etc.

Sandy enrolled in a class to learn how to construct a bound buttonhole.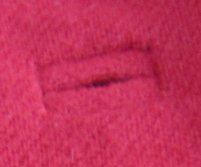 Learn how to make one yourself in an Open Lab, Tailoring class or Private Lesson.



High Tech Sewing
Mary Collen showed Kenneth her ski jacket with the embroidered code that takes you to the website about the ski event. The lining print was designed by her daughter.
Roby is wearing her "Up-Cycle" shirt made from a man's shirt and a woman's knit top.
Trouser Drafting Class
Students travel from as far away as Maine to attend the Sewing & Design School
Many reach their Goals
Apryl Miller - Featured in the September 2014 issue
2014 Fall shoe story photographed at the Apryl Miller Studio, with Saks Fifth Avenue New York.
Apryl Miller, designer, started her art studies in fashion with Ryliss.
She i
s a visual artist who tells her story through the poetry of bold patterns and vibrant color, freely and intimately taking the form of sculptural objects, fiber, furniture, collage, installations, prose and poetry. Her writing is intimately intertwined with her visual work and it speaks of our universal state of imperfection and how it binds us together.
She has been profiled on MTV, Salon.com and Milk Made of Milk Studios. Her work has been featured on HGTV and in international publications, including The London Sunday Times.
www.youtube.com/watch
Her apartment is used as location for photo shoots.
The PT Leader.com featured her in an article "
Port Townsend native brightens the Big Apple
."
http://tinyurl.com/qyp2ajn