Skip Navigation
Website Accessibility
Learn to Sew Part 1 Saturday October 3 , 9:30-12:30 pm
This is an introduction to sewing on a sewing machine. In this 3 hour class you will practice seaming, seam finishes, top stitching and hemming just like done in a garment. Your measurements will be taken and pattern sizing and fabrics will be discussed.You will walk out with a bag you made yourself to hold your sewing notes.
NO SUPPLIES ARE NEEDED.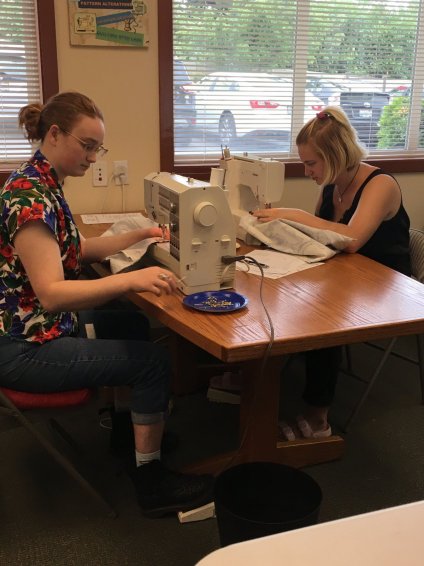 Materials Included:
Sewing machine, sewing tools, sewing notes, a project with thread to practice sewing
Instructor Name:
Ryliss Bod
Instructor Bio:
Ryliss Bod is the Founder and Director of the Sewing & Design School and has extensive experience teaching Fashion Construction and Design at a Washington State Technical College. She instructed courses for both continuing education and career training in all levels of sewing construction, home d?cor construction, fashion accessory construction, fashion design, fitting & pattern alterations, pattern-making, textiles, history of fashion and quilting.

She received her teaching degree in K-12 grades and studied art, clothing and textiles at Central Washington University, pattern-making and CAD at Gerber Technology, fashion design at the Paris Fashion Institute, pattern-making and construction techniques with Kenneth D. King and countless others.

Throughout her career she developed workshops and fashion shows, hired instructors and conducted fashion and fabric shopping field trips to Portland, San Francisco and New York. Ryliss has been a Contributing Editor at Sew News Magazine, Threads Magazine, judge for the 2014 RAGS Benefit, Make it With Wool and the Washington State 4-H Dress Revue and host of Instagram's Sew Photo Challenge #sewApril2017, #sewapril2018 and #se anapril2019. She is Washington's Central West District Director for the Make it with Wool Contest. Ryliss is hosting the 1st International Made with Wool contest on Instagram in January 2020. She may be contacted at ryliss@comcast.net.
Learn to Sew Part 1 Saturday October 3 , 9:30-12:30 pm