Spend 5 days in New York city shopping for fabrics and trims with Ryliss Bod and Jo Hutchins. There will also be plenty of time to go sightseeing and free time.

Ryliss has put together a walking tour of the garment district that is full of fabrics and trims. Both Ryliss and Jo will help you with your fabric and sewing questions. Everyone will receive a list of stores with addresses so they may return during their free time.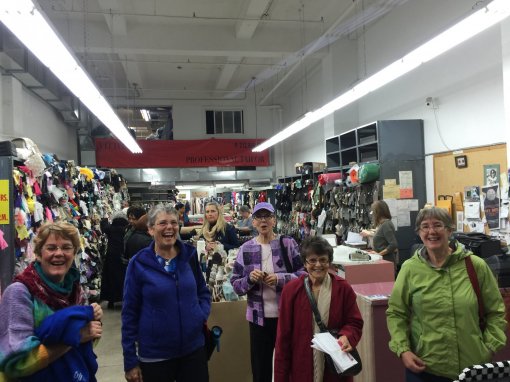 We will also visit -

*Kenneth D. King at his New York studio.
Fashion Designer, Made to Measure Tailor, Author, Instructor at FIT and the Sewing and Design School.



* Meet and Greet on Friday at 5:30 pm if you have arrived at Metro Textiles

*The Museum at the Fashion Institute of Technology Shoe Exhibit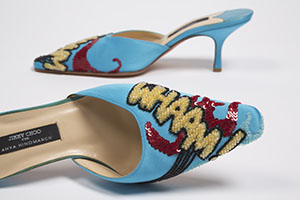 Shoes will highlight approximately 400 pairs of shoes from the museum's permanent collection of 4,000 shoes. Following the success of the MFIT exhibitions Shoes: A Lexicon of Style (1999) and Shoe Obsession (2013), this exhibition will provide its own rich narrative on the enduring cultural significance of shoes, while showcasing the museum's world-class collection of footwear. The museum's earliest shoes date from the 17th century (a pair of high-heeled men's shoes). The most recent are spectacular 21st-century footwear. Labels to be featured include Alaïa, Manolo Blahnik, Chanel, Ferragamo, Christian Louboutin, Alexander McQueen, Prada, Noritaka Tatehana, Iris van Herpen, and Roger Vivier, among others.


*Metropolitan Museum of Art (The MET)
Kimono Style: The John C. Weber Collection




This exhibition will trace the transformation of the kimono from the late Edo period (1615–1868) through the early 20th century, as the T-shaped garment was adapted to suit the lifestyle of modern Japanese women. It will feature a remarkable selection of works from the renowned John C. Weber Collection of Japanese art that explore the mutual artistic exchanges between the kimono and Western fashion, as well as highlights from The Costume Institute's collection.
The weaving, dyeing, and embroidery techniques for which Japan is famed reached their peak of artistic sophistication during the Edo period. Members of the ruling military class were the primary consumers of sumptuous kimono, each one being custom-made. At the same time, a dynamic urban culture emerged, and the merchant class used its wealth to acquire material luxuries. Kimono, one of the most visible art forms, provided a way for the townspeople to proclaim their aesthetic sensibility. Depictions of kimono in Japanese woodblock prints were widely studied by Western couturiers in the late 19th century. The garment's comparatively loose, enveloping silhouette, and its rectilinear cut would have the most profound and lasting influence on Western fashion, with couturiers like Madeleine Vionnet and Cristóbal Balenciaga taking inspiration from the kimono for their avant-garde creations.
In the Meiji period (1868–1912), Western clothing was introduced to Japan. Simultaneously, modernization and social changes enabled more women to gain access to silk kimonos than ever before. Around the 1920s, affordable ready-to-wear kimono (meisen) became very popular and reflected a more Westernized lifestyle. These were sold in department stores modelled on Western retailers, following Western-style marketing strategies. To illustrate these connections, the exhibition will present over 60 kimonos alongside Western garments, paintings, prints, and decorative art objects.
New York City Harbor Lights Cruise
Take in the lights of the Manhattan skyline from a boat on this evening harbor cruise. Listen to live commentary on the harbor's sights—including One World Trade Center, the Statue of Liberty, and the Chrysler Building.



Frequently asked questions
How do I get my fabric purchases home? Most stores will mail them for your. Kashi at Metro Textiles has even holds your purchases until the end of the trip and then mails them.

Is it possible to share a room with someone? Yes, I will collect names of people who want to share a room.

What if I don't sew and don't want to go to the fabric stores but still would like to see the exhibits, Kenneth D. King, and the Harbor Cruise? Just let me know and I will reduce the tuition for you.

I want to take in a play or musical, is there anyone else that wants to do that? You will have an opportunity to meet and greet all of the travelers. Many group up and go together.

Will there be a group lunch(s) or dinner(s)? It's New York and I have found it easier if we break up into smaller groups to dine at a restaurant. I will check around as the date gets closer to see if I can find a restaurant that will seat a large group.

What should I bring from home? Comfortable shoes, clothing you can layer, yardage information for the types of garments you want to sew (many fabric stores do not have patterns). Your cell phone.

What if I can't walk far? The hotel will be within blocks of the fabric stores. You can easily take a taxi, they are everywhere and not that expensive when you ride with other sewing friends.

What I take to New York.

1 check-in suitcase
A back pack with my laptop, 1 change of clothes, makeup and medicines. My Dr. told me to switch from a carry-on to the back pack to prevent the bursitis in my shoulder from acting up, caused by lifting my carry-on up in the overhead bins in 2017 .

*A light raincoat with a hood. My my arms and hands to be free.
*Walking shoes/tennis shoes. They are the most comfortable and supportive shoes I have.
*Comfortable shoes.
*I preload my phone with APPS for New York city maps for walking and subways, restaurants...
*Fill my suitcase with Air pockets (from packages mailed to me) or crumbled garbage bags to fill up space I am saving for returning home with purchases.
*Lightweight Crossover bag or shoulder bag that closes, to keep my arms free and my purse more secure. Large enough for purchases.
*Small Shoulder bag that carries my regular purse stuff.
*Separates that all go together.
*2-3 Scarves- all mine came from New York
*Face masks- I bet there are some cool ones in New York
*Ibuprofen

You can find anything in New York, so don't worry if you forget something.


The schedule will be updated as we near our travel dates and arrangements are made.

Registration Deadline: July 6, 2022 DO NOT MAKE YOUR TRAVEL ARRANGEMENTS UNTIL I CONFIRM THE TRIP IS A "GO'


Our Cancellation Policy for Classes, Workshops and Trips with a Registration Deadline
If you cancel before the registration deadline, you will receive a full refund, less a $5.00 processing fee and the PayPal fees.

If you cancel after the registration deadline, a student will need to replace you, you will receive a full refund, less a $5.00 processing fee and the PayPal Fees.

If the trip is canceled you will receive your tuition back with no fees.

If the trip is postponed you will receive your tuition back if you wish with no fees.