Spend 3 days in New York city shopping for fabrics and trims with Ryliss Bod, Director and Sewing Instructor at the Sewing and Design School.
Ryliss has put together a walking tour of the garment district that is full of fabrics and trims. She will help you with your fabric selections and answer your sewing questions. Everyone will receive a list of stores with addresses so they may return during their free time.
Metropolitan Museum of Art (The MET)
Spring 2024 Costume Institute Exhibition Will Celebrate the Work of


Museum at FIT (Fashion Institute of Technology, New York)

Exhibit of FIT Student's Work


Júlio César, Fashion Designer

The schedule may change but this is what is planned as of now.

Monday, May 8 at 6 pm, we will start out with a Meet and Greet at the Hotel*
Tuesday, May 9, will be a full Fabric Shopping Day in the Garment District
Wednesday, May 10 is a Couture with Kenneth D. King and Couture Fabric Shopping at Mendel Goldman Fabrics
Thursday, May 11, is a Fashion Design Inspiration Day, Karl Lagerfeld Exhibit at the MET and the 2023 Spring and Summer Designer Fashions at Bergdorf Goodman
Friday, May 12, is Buttons, Zippers, Trims, Ribbings, and Sewing Tools and Julio Cesar. Fashion Designer
Saturday, May 13, Inspiration & Free Time, Museum FIT Designing Women: Fashion Creators and Their Interiors and FIT Student Exhibit
Sunday, May 14, Last minute shopping and traveling home
*Ryliss will be staying at the Hyatt Place New York City Times Square Hotel, 350 W 39th. This is a comfortable hotel, close to the fabric stores and includes breakfast. If you wish to share a room with someone, let me know. There are rooms with 2 beds.
*Kenneth D. King at his New York studio.
Fashion Designer, Made to Measure Tailor, Author, Instructor at FIT and the Sewing and Design School.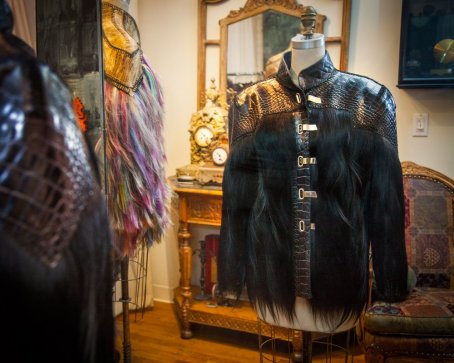 Frequently asked questions
How do I get my fabric purchases home? Most stores will mail them for your. Kashi at Metro Textiles has even holds your purchases until the end of the trip and then mails them.

Is it possible to share a room with someone? Yes, I will collect names of people who want to share a room.

What if I don't sew and don't want to go to the fabric stores but still would like to see the exhibits, Kenneth D. King, and the Harbor Cruise? Just let me know and I will reduce the tuition for you.

I want to take in a play or musical, is there anyone else that wants to do that? You will have an opportunity to meet and greet all of the travelers. Many group up and go together.

Will there be a group lunch(s) or dinner(s)? It's New York and I have found it easier if we break up into smaller groups to dine at a restaurant. I will check around as the date gets closer to see if I can find a restaurant that will seat a large group.

What should I bring from home? Comfortable shoes, clothing you can layer, yardage information for the types of garments you want to sew (many fabric stores do not have patterns). Your cell phone.

What if I can't walk far? The hotel will be within blocks of the fabric stores. You can easily take a taxi, they are everywhere and not that expensive when you ride with other sewing friends.

What I take to New York.

1 check-in suitcase
A back pack with my laptop, 1 change of clothes, makeup and medicines. My Dr. told me to switch from a carry-on to the back pack to prevent the bursitis in my shoulder from acting up, caused by lifting my carry-on up in the overhead bins in 2017 .

*A light raincoat with a hood. My my arms and hands to be free.
*Walking shoes/tennis shoes. They are the most comfortable and supportive shoes I have.
*Comfortable shoes.
*I preload my phone with APPS for New York city maps for walking and subways, restaurants...
*Fill my suitcase with Air pockets (from packages mailed to me) or crumbled garbage bags to fill up space I am saving for returning home with purchases.
*Lightweight Crossover bag or shoulder bag that closes, to keep my arms free and my purse more secure. Large enough for purchases.
*Small Shoulder bag that carries my regular purse stuff.
*Separates that all go together.
*2-3 Scarves- all mine came from New York
*Face masks- I bet there are some cool ones in New York
*Ibuprofen

You can find anything in New York, so don't worry if you forget something.


The schedule will be updated as we near our travel dates and arrangements are made.

Registration Deadline: March 5, 2024. Meaning no refunds after this date unless I get a replacement for you.


Our Cancellation Policy for Classes, Workshops and Trips with a Registration Deadline
If you cancel before the registration deadline, you will receive a full refund, less a $5.00 processing fee and the PayPal fees.

If you cancel after the registration deadline, a student will need to replace you, you will receive a full refund, less a $5.00 processing fee and the PayPal Fees.