Skip Navigation
Website Accessibility
x LEARNING TO SEW 101 3:30-5:30 pm
This is a project-based beginner course that will build your confidence on a sewing machine. You will learn key sewing skills while you make fun projects of your own choice such as a simple knit dress, top, vest, pants, skirt, pillow or pillowcase.
In the first class you will go over the operation of the sewing machine, discuss needles, threads, pattern sizing and ease, fabrics, and practice stitching on the sewing machine. You will plan your first project.
The second class you will meet at Hancock Fabrics in Tacoma for a hands on look and discussion of the fabrics, notions and patterns available. You may purchase your supplies for your project at this time with the advice of your instructor.
In the third class you will start your project. It will be altered to fit, cut out, and the scraps will be used to research the stitch length and type, needle size and type, and interfacting.
This course is a good starting point if you're brand new or if you need a refresher to increase your comfort level on a sewing machine. You will work on your own project as others do theirs, and we as a group participate in mini lessons on the basic alteration and sewing steps.
The supply list available at the first class. Do not buy any supplies prior to the start of class.
This class is for ages 10 and older.

Ideas for Easy to Sew Patterns are found on Ryliss' Pinterest Boards. Click the button at the top right hand corner of any page on the website.
Finished garments from past Learning to Sew 101 classes -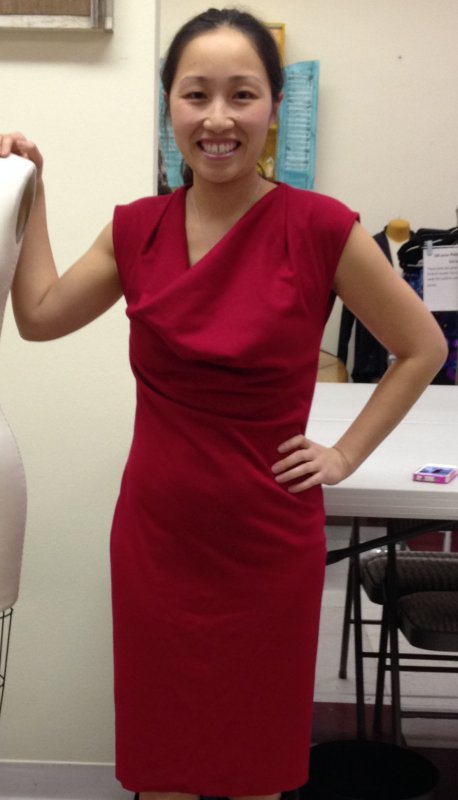 Skill Details:
Beginners, all ages
Materials Included:
Pattern paper, paper scissors, scotch tape, pencil, color pencils, cutting mats, sergers, french curve rulers, Drafting L square rulers.
Requirements:
Do not bring anything for the first class. We will discuss the items you need for the following weeks. Students will need to bring sewing supplies, fabric and pattern for the third class and fourth class.
Instructor Name:
Ryliss Bod
Instructor Bio:
Ryliss Bod is the Founder and Director of the Sewing & Design School and has extensive experience teaching Fashion Construction and Design at a Washington State Technical College. She instructed courses for both continuing education and career training in all levels of sewing construction, home décor construction, fashion accessory construction, fashion design, fitting & pattern alterations, pattern-making, textiles, history of fashion and quilting.

She received her teaching degree in K-12 grades and studied art, clothing and textiles at Central Washington University, pattern-making and CAD at Gerber Technology, fashion design at the Paris Fashion Institute, pattern-making and construction techniques with Kenneth D. King and countless others.

Throughout her career she developed workshops and fashion shows, hired instructors and conducted fashion and fabric shopping field trips to Portland, San Francisco and New York. Ryliss has been a Contributing Editor at Sew News Magazine and Fashion Judge at the 2-14 RAGS. She may be contacted at ryliss@comcast.net.
x LEARNING TO SEW 101 3:30-5:30 pm